Improving, Implementing.
Most great things have small beginnings, and so was the case with our website - Crater.Club. At Crater, we are constantly working on improving both ourselves and our creations. Ever since we launched our website, we've tirelessly worked to make it a platform that both creators and viewers can enjoy.
"We always imagined the website to be a dark themed product," said Malvika, our Head of Visual Design, "we were trying to give crater a personality and trying to build a community. Of course, we're still very much in the process of that personality development." That's personally what makes Crater so special to me - we're still growing and figuring ourselves out.
Here's some things we noticed were missing in this past design, and how we set about resolving them:
Branding Inconsistencies:
The older page had inconsistencies in fonts, icons and colors. The new page has a more compact, consistent look. With the changes, branding and visual language is consistent - which helps create an identity of the product in the user's memory.

Choice fatigue:
The older Homepage had an endless scroll of thumbnails. This could've led to choice fatigue as users have no direction and can get overwhelmed by their excessive options. The limited number of streams on the current homepage prevents that.
---
"We're trying to build a culture of livestreaming," said Som, our very own UX/UI designer. "In India, the current trend for edutainment is YouTube. But here's why we stand out: Crater is not a one way learning - it is interactive, personal and informal."
"We wanted to make it easier for the user to adapt to this new culture of livestreaming," he continued. "Therefore, we knew our website had to be intuitive and simple to use. We knew that India is new to the livestream world, and we factored that in when designing this website."
---
The page redesign focuses on discoverability. I've combined some key aspects that we continue to work on to ensure that creators get the exposure they deserve:
Introduction of Leaderboards:
Users can see top creators on the leaderboard which allows them to follow and access high quality content. This improves visibility for creators as well as accessibility to the viewers.

Stream Carousel on Home Page:
The carousel with the videos of both past streams as well as live streams is the hero on the new homepage. This improves reachability to creators, as well as gives viewers a taste of how streams feel, along with acquainting them with the content. It also further cements that we are a video streaming platform, which was not as evident before.
Introduction of Categories:
With the introduction of categories like crypto, design, stock trading, etc., we ensure that viewers can freely browse through their areas of interest and find streams catered to them much easier than before.
Interface Changes:
The homepage now includes the various functions that are available to viewers - Auctions, Creator Journey, Leaderboard Winners and the Hub. It also notifies users of upcoming streams as well as recordings of past streams.
---
We will continue to improve our website to give creators and viewers alike the experience they deserve. We are, and always will be, open to any comments or criticism as we work towards perfection. After all, design is never about succeeding at the first attempt. It's about presenting and representing ideas - failing, so we can succeed faster.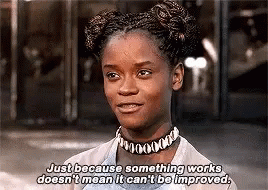 I could go on and on about how the final result turned out, but nothing beats personal experience. So what are you waiting for? Go check out Crater.Club!